Support Don and Sandra Stephenson
For periodic updates on our lives and our ministry, visit www.donandsandra.com.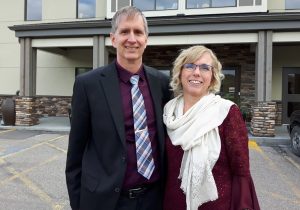 Introduction
It has been a delight for us to be involved with Impact Ministries since 2007. We are so impressed with what God is doing in Guatemala. The life transforming power of God is evident and it is a huge privilege for us to share a part in this ministry.
Overview of our Work
We have been involved with Impact Ministries for a number of years. As of July, 2015, we are in the role of managing Canadian operations for Impact Ministries. This is exciting work, full of new adventures and challenges almost on a daily basis. We provide leadership for the Canadian Office staff, manage communication with donors, finances, and many projects. We are thankful for a fantastic staff, each doing their job with excellence. One of the many things we enjoy is the variety of people we get to communicate with. Impact Ministries has many supporters, and people interested in becoming involved, and it is our joy to connect with them. Sandra is assuming the bulk of this role, with Don also dedicating time to his work with Impact.
Needs associated with our Position
There are always needs associated with ministry. We are no exception. It is our absolute privilege to work with Impact Ministries. Our need for God's empowering and for His wisdom is ever before us. We depend on Him. We trust Him, and we know that He is leading us. Praise God! If you would like to share in our ministry we would ask that you:
Pray for us. We truly depend on God! He is our source of strength and wisdom. We trust Him to work through us to accomplish His purposes here on earth. Please join us in prayer that God will fill us with wisdom, as we serve Him with Impact Ministries.
Consider supporting us financially. Impact Ministries is a faith based organization, where all missionaries raise their own support. In our work with Canadian operations, we too want to take this faith based model where our supporters would enable us to do this work, and keep the overhead costs at their incredibly low level. We would love it if you would join our team in this way!
Gifts are tax deductible.  Spending of funds is confined to programs and projects approved by Impact Ministries. Should a donor designate a contribution, we will honour that designation, with the understanding that when the need for such a program or project has been met or cannot be completed for any reason as determined by Impact Ministries, the remaining designated gifts will be used where most needed.