Impact Ministries has a Medical Clinic in Chijacorral and offers mobile clinics in the surrounding areas. Clinic Coordinator Christy Lew would like to introduce you to her staff:
Our team is small – we are just three full-time staff, but we run various public health initiatives, work with the 15+ medical/dental teams that come down each year, and handle the day-to-day health needs of our students, staff, congregations, and families.
Today, we'd like to introduce you to Isaias.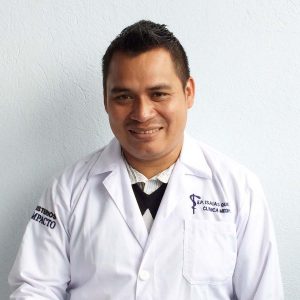 Born in Tactic, Isaias lived here several years with his grandmother before moving to a town two hours away where he worked in agriculture all through his childhood. Given the nature of this kind of work, he ended up leaving his studies for a time. He later returned to Tactic and began working in different bakeries in his late teens. During that time, he started up his studies again and finished high school.  
Isaias did not come from a Christian family, but started going to church in his early adult years.  He met and married his wife while they worked at the same bakery.  In 2008, his wife started working as a teacher with Impact Ministries. A year later, Isaias also became a teacher in one of our schools. He began to take an interest in health, so the following year he started work in the newly established clinic in the Vida Chijacorral School.  
Seven years later, Isaias has graduated from nursing school, with the desire to further his studies in this field.  He and his wife work full-time, raise their five kids, and are leaders of a cell group in our Rio de Vida church. In his spare time, Isaias spends time with his family and plays soccer.
When asked why he works in the clinic, here's what Isaias says:
"What I like about working here is that we help people at no cost to them. We are demonstrating God's love, and everything we do is with love . . . it is easy to become lost, but each day God restores our lives here."
Want to be part of demonstrating God's love through Impact Ministries' Medical Clinics? There are options to give & to go!

 Give towards the Chijacorral Medical Clinic


 Give towards the Chijacorral Medical Clinic
Go to Guatemala on a Medical Team