Last week, we introduced you to Isaias, our longest-running clinic staff member, and today, we are excited to introduce you to our newest staff member, Linda.
Linda was born in Coban, and has lived her whole life in Purulha with her family. She finished elementary school in Purulha, went to middle school in Tactic, completed high school in Coban, and then studied nursing there, just graduating in 2015. She has been working with us since February 2017 and this is her very first nursing job out of university!
Linda grew up in a Christian home and has attended church all her life. During a period of time when her family stopped going to church, she started attending the Rio de Vida church in Purulha on her own. It was during this time that her faith became her own. She joined a cell group and gradually her family started attending the services at Rio de Vida as well. She now serves as an usher, teaches Sunday School, serves on the audiovisual team, and helps her family host a cell group in their home.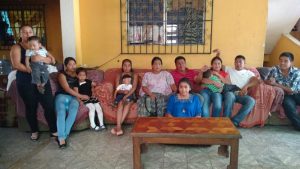 The fifth of nine children, Linda comes from a large family. She also has four nieces and four nephews. In her free time, she spends time with her extensive family.
Linda is currently working through a master's degree in Nursing, and hopes to specialize in infant/maternal health. She dreams of running her own pharmacy as well one day.
When asked what draws her to work in our clinic, Linda says:
"It is an environment where we always are reminded that the Lord comes first. It is easy to forget about God, but every morning we give thanks to Him for the opportunity to be here."
Come alongside Linda & the rest of the medical clinic staff as they serve in the Chijacorral Medical Clinic

 Give towards the Chijacorral Medical Clinic


 Give towards the Chijacorral Medical Clinic
 Go to Guatemala on a Medical Team